June 13, 2016 | Vineyard | OS VINE
Wire Raising in the Vineyard
It is hard to believe that June is here! Thankfully, we have been spared from hail which frequently accompanies our thunderstorms and the vineyard is looking wonderful! In fact, it is time for wire raising. But, before I get into what wire raising is, let me show you a picture of the grapes that are growing - it looks like we will have a bountiful crop!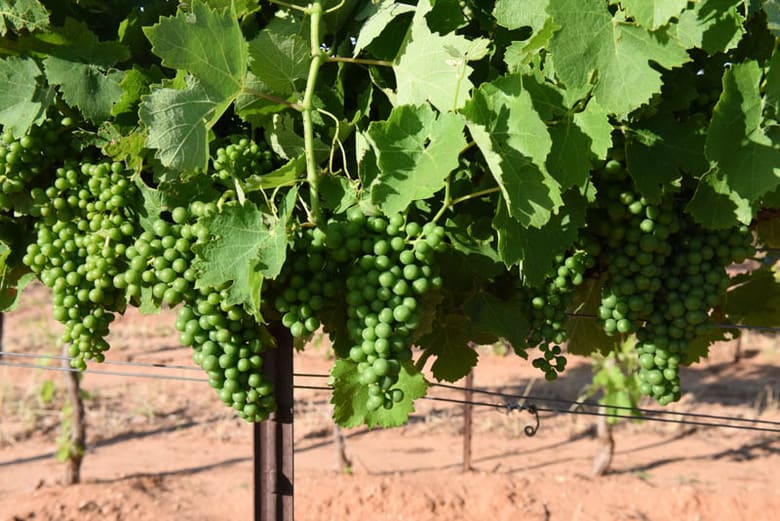 The canopy of the grapes includes the shoots and foliage. To manage the canopy, we use a Vertical Shoot Positioning (VSP) trellis system. In a perfect world, all the shoots of the grapevines would grow upward so as many leaves as possible would be exposed to the sunshine. A horizontal wire, running 3-4 feet off the ground, is called the cordon wire. This wire supports the main arms of the vine and from these arms the shoots grow upward. Two additional wires on both sides of the vine foliage, at 4 ft and 6 ft. from the ground, are used to hold the shoots as vertical as possible, hence, VSP. Once the shoots are raised with the VSP wires, the shoot's tendrils attach to the wires and other shoots for further support. Manually raising the two sets of wires had been the majority of our summer work. Not only did wire raising in the vineyard take time, the second wire was physically demanding - by July when we needed to lift the second wire, the canopy is extremely heavy! But, we have become more mechanized and in 2014, we purchased the wire lifter that attaches to our Pellenc 4560 multi-purpose machine.
As with the harvester, pre-pruner, and precision pruner, the wire lifter attached to the Pellenc rides over the vine row.
In front of the machine, the vines are lifted up as it lifts the wire to the desired height. The shoots are stood up by the rotating black wheel and plastic clips are snapped on the two wires to hold them together. If you look closely, you can see the wire in front of the black wheel in the photo below.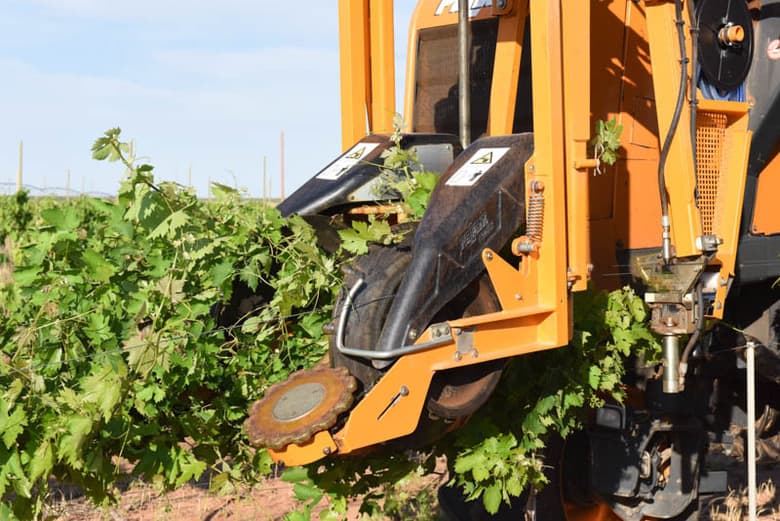 Now, let's look at a row of Montepulciano before wire raising. You can see how "hairy" the row looks with the shoots sticking out, under, and sideways - they are just going everywhere!
What a difference raising wire in the vineyard makes! Look how much cleaner and neater the row looks after raising wire.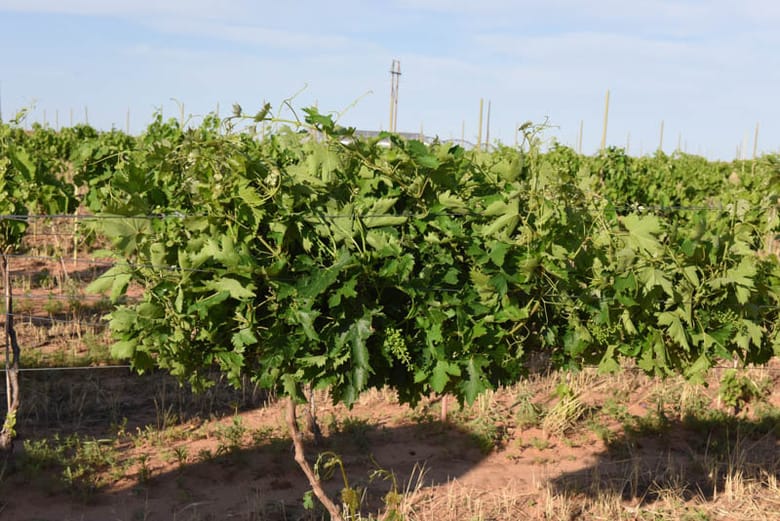 I love becoming more mechanized - not only does it save a lot of time but it is also much easier! We will probably be raising the next wire in July. For now, I'm going to get a cup of coffee, sit on the porch and look at the vineyard! Have a great day!