June 2, 2022 | Corgipoos | OS VINE
Schnuki's Christmas Corgipoo Litter
On December 20, 2021, Schnuki's Christmas Corgipoo Litter was born. With four beautiful puppies, we entered the holiday season! Check out our Corgipoos - Corgi Poodle Mix page for more about the breed, links to past litters and pics of the parents.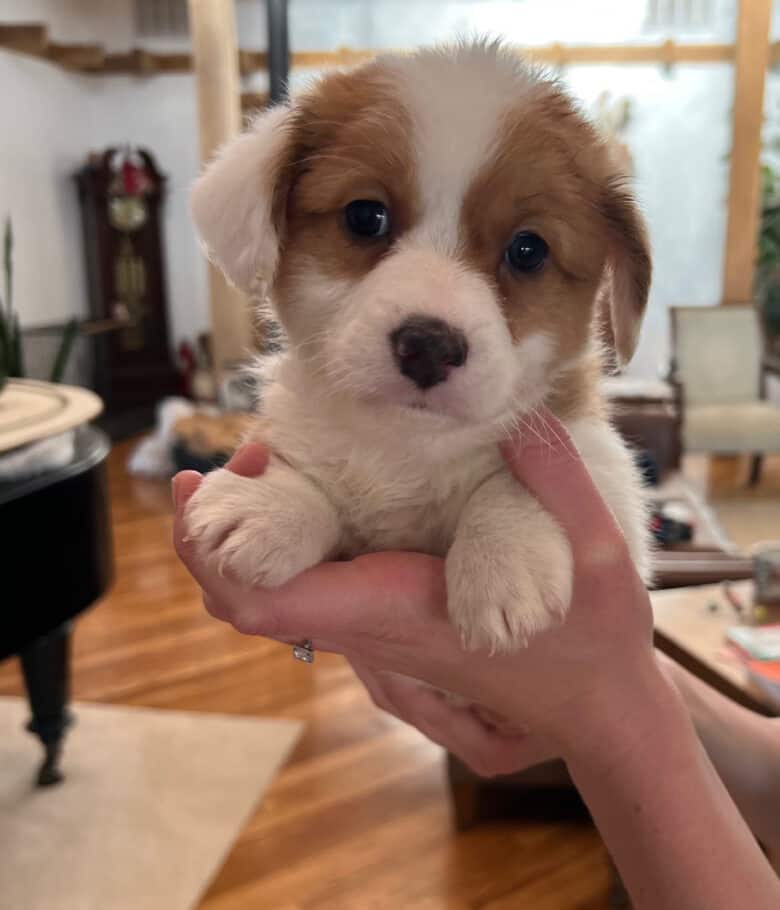 Smaller Litter
Having had eight - yes, you read that right, in Schnuki's First Corgipoo Litter, she had eight puppies! I was thankful this litter was smaller. While she did great with such a large litter, it did take a lot of special care to keep her in tip top condition.
Especially nursing so many puppies, we had to make sure she was getting more than adequate nutrition and even gave her supplementation to her regular diet.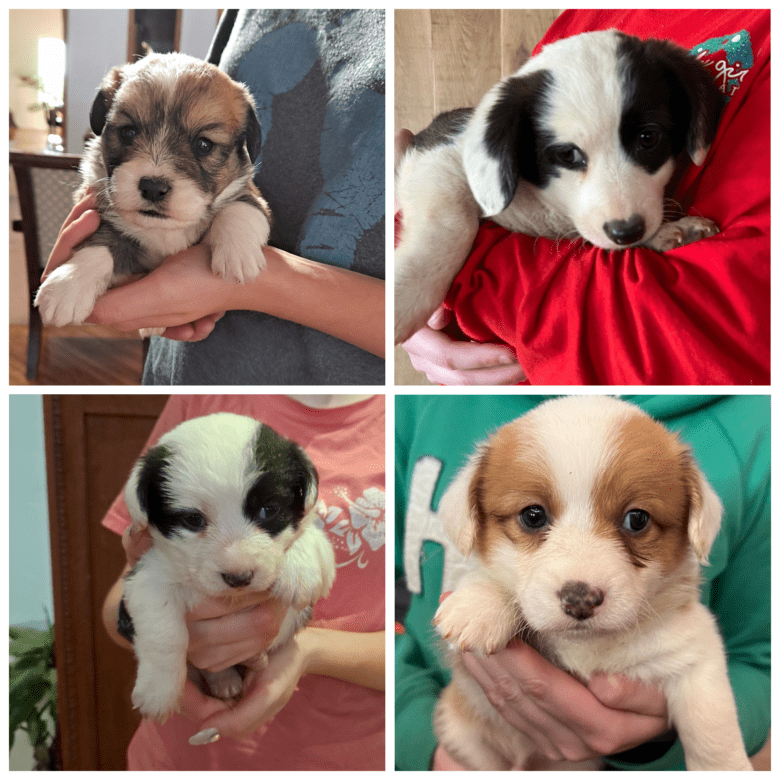 Even Split
With two girls and two boys,Schnuki's Christmas Corgipoo Litter was evenly split between the genders. Not that it really matters with puppies but it is always fun to see who is born.
She also had a good mix of colors with a sable and a black and white female along with sable and white and black and white male.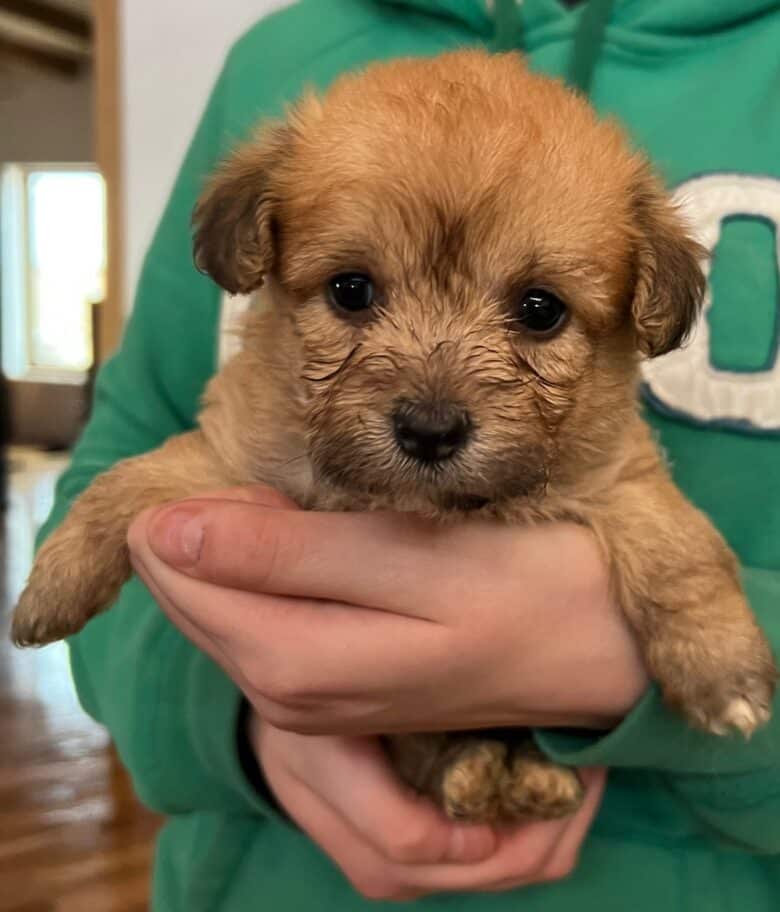 Schnuki's Christmas Corgipoo Litter Born the Same Day as Our Second Oldest
These puppies share the same birthday as our second oldest son. I think that made me more sentimental about these puppies. They are definitely adorable but there birthday is really special!
Quick Pictures
While I normally have a photo session before all the puppies go to their new homes, with holiday preparations, I did not with this litter.
We did have fun taking weekly pictures to document their growth though. The first two pictures below show some of the pictures I text folks on my waiting list to choose a puppy.
After selection, I send the new parents pictures each week to see the growth of their new family member. You can see the difference a few weeks makes!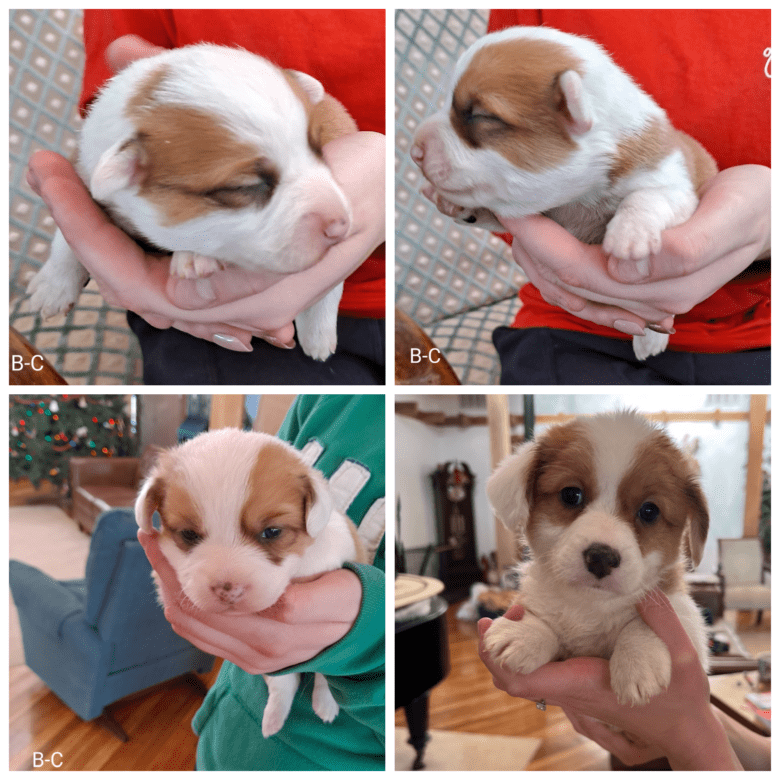 What You Get With a Corgipoo From Oswald Vineyard
People often ask what makes a corgipoo from Oswald Vineyard unique?
My answer is... you get a puppy that is born and cared for in our home with lots of love and socialization. Crate training is begun and the puppy is well on his/her way to becoming a valuable member of your family!
And, as mentioned above, I also make a point to send weekly pictures so you can see your puppy grow.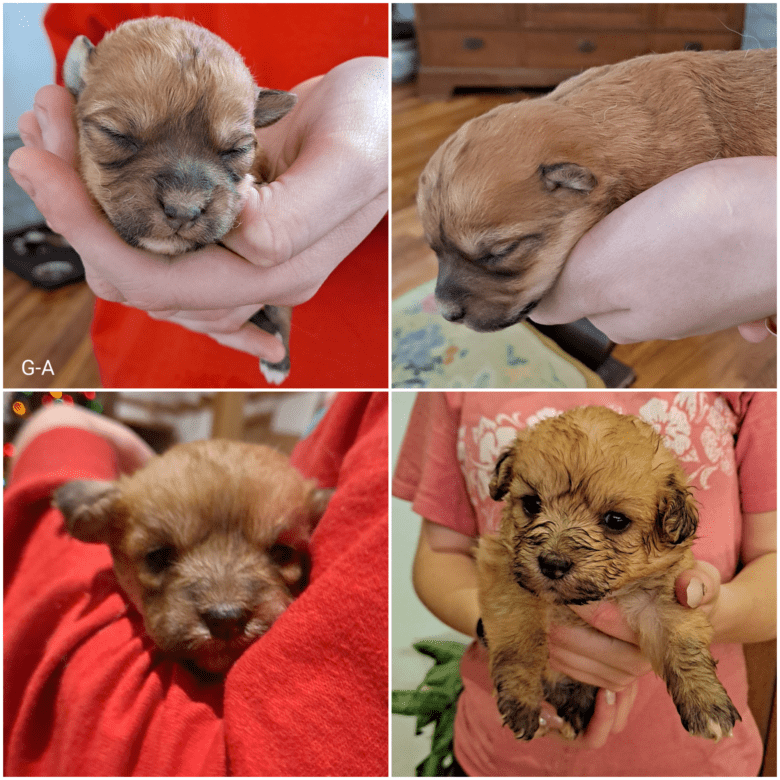 Schnuki's Christmas Corgipoo Litter - Socialization
We have six of our children still at home. That means plenty of holding, talking to and playing with the puppies. If that weren't enough, we also have grandchildren that visit througout the week.
So, our puppies are used to plenty of people (including young children), but that is not all! They are also around other dogs, cats and they even see cows, chickens and ducks!
We begin crate training to help make it easier for you! Our puppies play on pretty days in a safe puppy playpen. At bedtime, they are put to bed in their crate. In the morning, we take them outside to do their business and it is amazing just how quickly they learn!
Interested in a Corgipoo Puppy?
If you are interested in finding out more about our puppies, leave a comment and I will get you more information.
If you are on Facebook and would like to see our puppies grown and get answers to your questions, feel free to join the group - Corgipoos of Oswald Vineyard.