February 1, 2013 | Vineyard | OS VINE
Pruning the Vineyard 2013
Last week on Family Fridays, I explained about pre-pruning with our Pellenc 4560 grape harvester. After pre-pruning is completed, hand pruning is done to further prepare the vineyard for fruit production. We are in the process of hand pruning the vineyard now.
You can see a vine which has been pre-pruned in the picture below. The 4 - 6 inches long spurs are the sticks you see coming up from the cordon (the horizontal arms of the vine).
It seems that each year, the hardest part of pruning is getting started. Once we all get going, we pick up speed and confidence. Last year we were able to do more or less one acre per day depending on the variety. This year, we are starting sooner than last year so we can continue home education and prune when the weather is comfortable. No one likes pruning in freezing rain or 30 mile per hour winds!
Below you can see a close-up of last year's spurs growing out of the older wood of the arms. The buds are the bulges which contain this year's canopy and fruit. Each bud can lead to two clusters of fruit. There are buds about every 2-3 inches on the arms and spurs - literally thousands on an unpruned vine. If we left them all, the vine would never ripen all the fruit and the root system would be over taxed, leaving a severely hurt vine. So, we prune them down to hopefully have about forty potential buds left per vine.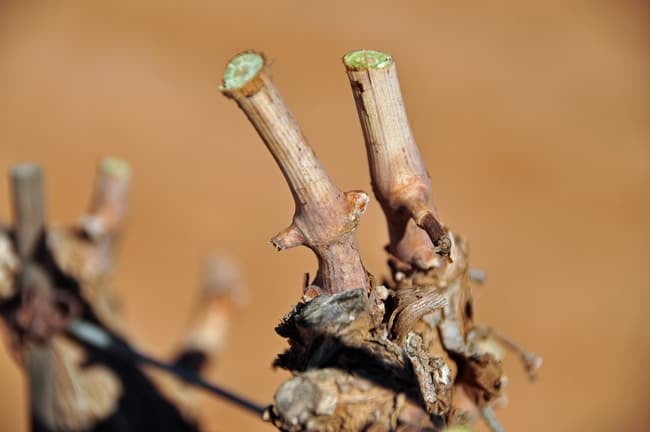 Below you can see a vine, pruned and ready for spring.
As with most of our life, it is a family affair. This year, not only is our 7 year old learning to prune alongside his 10 year old brother, but so is our 4 year old. While she can not reach the vines to do close pruning, she works alongside us, clipping anything that is hanging within reach!