August 8, 2012 | Building | OS VINE
ICF Filter House - Almost!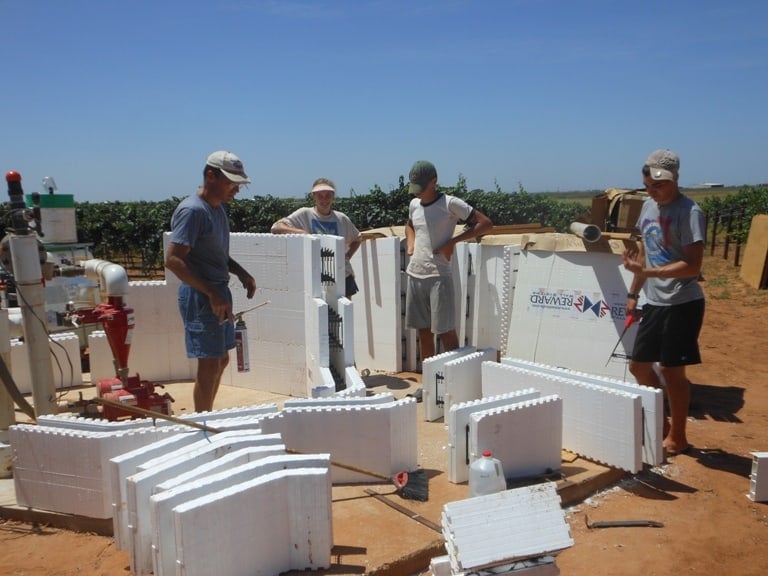 For a chronological listing of our ICF building see ICF Building Index. Even though the vineyard work has slowed, it has still required time which has delayed the completion of the ICF filter house. We chose to use the Rewards Insulated Concret Forms (ICF) for the filter house because of their insulting ability. No longer will John have to drain the entire filter system when temperatures dip below freezing! Having used them in the first phase of our new house which overlooks the vineyard, we are definitely pleased. The ICF forms snap together quickly and easily, just like adult size legos which are glued together and then filled with concrete. They are so easy for do-it-yourselfers to work with! As usual, it involves the whole family, discussion, re-checking plans and fun! Recycled (ie. "junk") wood is used to provide bracing for the door and window frames.
The evening the walls were completed, John could not resist climbing up on top to survey the view of the vineyard.
Now, work continues to construct the form for the pavilion which will sit on top of the filter house. As you can see, much bracing is needed to hold the weight of the concrete which will be poured.
On the inside, the bracing looks like a giant wagon wheel.
Once the walls and platform are poured, we will build stairs, railings and a roof. It will provide a magnificent view of the vineyard. For now, we have put plastic down and reinforced the form with rebar.
We will probably begin harvesting 2 acres of Roussanne next week. So, it is iffy as to whether or not we can have the concrete for the filter house walls and platform, as well as, the greenhouse done beforehand. Another lesson in patience! You would think by now I would have this patience thing down ;)