August 13, 2013 | Vineyard | OS VINE
Homecoming and Harvest Preparation
Before I tell you how close harvest is, let me just say, it is so good to be home! Don't get me wrong - I had a wonderful visit for 10 whole days in Macon, Georgia with my mom (aka Mimi) and my sister (aka EC). But, you know the saying, "there is no place like home!".
We had fun just spending time together not to mention all the eating we did! We went to a favorite hometown cafeteria, the S & S Cafeteria, three times! Yep, you read it right, 3 times. And, each time I ordered the liver and onions. It was just that good! We also visited the Grits Cafe in Forsyth, Ga. and the Cheesecake Factory in Atlanta. Before you ask, I did order (and eat) the Turtle Chocolate Cheesecake at the Cheesecake Factory but only after a salad! No regrets, just indulgence. A couple of the highlights were visits with childhood friends and my sister-in-laws. First, my best friend from high school, Shawna, came down for the day. She lives just north of Atlanta so it was almost a 2 hour drive. What a fun time we had reminiscing and catching up with each other. In fact, we had so much fun reconnecting, that the next day, I drove my mother to south Georgia, the Lilly and Vienna area, to visit her best friend since 7th grade. They were so cute together. My mother was so excited about going that she could not sleep the night before! I returned to west Texas last Saturday to a house full of family to celebrate my birthday. All 10 children, spouses and grandchildren along with some family friends were here. We had a shrimp boil that was delicious. Yes, once again I indulged in cake - cheesecake. But, not only one type, the girls made 2 different types - a Cappuccino Fudge Cheesecake and New York Cheesecake, both from Smitten Kitchen. They were rich, creamy and fantastic! Now, though, it is back to reality. It's a good reality. It is time to prepare for harvest! That means work on the Pellenc grape harvester, maintenance of all types. The pruning head was first removed and the picking head put on. Then came repairing belts, greasing bearings, greasing joints, checking hydraulic fluid, putting bow rods on and ....
The harvester was parked in the overhang of the barn for the work. Everyone helped and at first glance the barn was a mess. But they seemed to know what went where - thankfully, because I didn't have a clue!
Our harvest is still several weeks away but we will be doing custom harvesting work for several grape growers in the area. Even though it will still be awhile before our harvest, the grapes are ripening. And boy are they good! I think my favorite is the Montepulciano, an Italian red. I'm not sure why they call them a red except that the wine made from them is red (a very deep dark red) because the grapes themselves are a very deep blue. Here is a cluster before I ate it!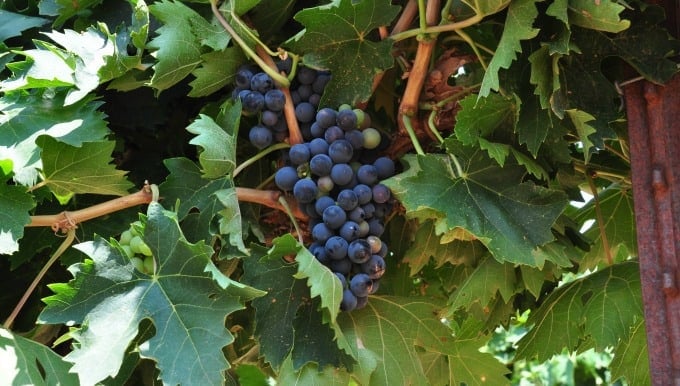 So, while John and the older children were working on the harvester and I was eating grapes, the younger children were busy cleaning up after a bonfire we had to celebrate my birthday. I think there was more play than work but the majority of the ashes are gone anyway. It was such a big fire that a neighbor several miles away drove over to make sure everything was alright - Ooops!
Yes, our reality is a good one!