April 26, 2013 | Building | OS VINE
Greenhouse ICF Walls Poured
For a chronological listing of our building projects with ICF (or insulated concrete forms), be sure to look through the ICF Building Index. We have finally gotten back around to work on the greenhouse that we started way back when! I think we have too many projects going on at the same time! And, when you do the work yourself on all of them, well, it just takes time. I know patience is a virtue but it sure can be hard to come by sometimes! If you have been around awhile, you will remember that a friend gave us all the parts to a greenhouse which had been blown away in one of our haboobs. All of the parts were there but a couple needed re-welding which John and the boys did. We used ICF (insulated concrete forms) out of ease for the base. ICF are so easy to snap together and once filled with concrete make for a strong wall. For more information on how we are building our house with the ICF, click here, here and here. The hoops had been put up and are secured by purlings of wood. These purlings are what the fiberglass for the roof will be mounted upon. So, after some final straightening and squaring up, we had concrete delivered. The ICF walls are about 3 ft high and have the hoops for the greenhouse going into them. This will add security in the west Texas wind! You can see in the pictures, that we also has reinforced the walls periodically with pieces of wood nailed to them. These boards along with the ones along the top will be removed as soon as the concrete is set. The concrete was funneled into the wall by pieces of wood held on either side of the wall. Another person then directed the flow of concrete into the opening at the top of the ICF blocks.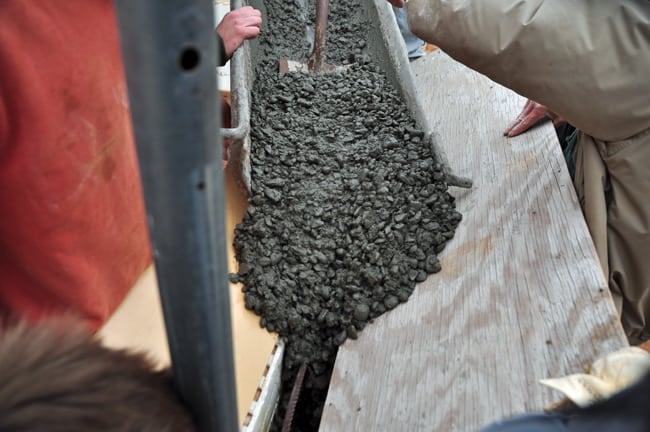 As with most everything in our lives,this was a family affair!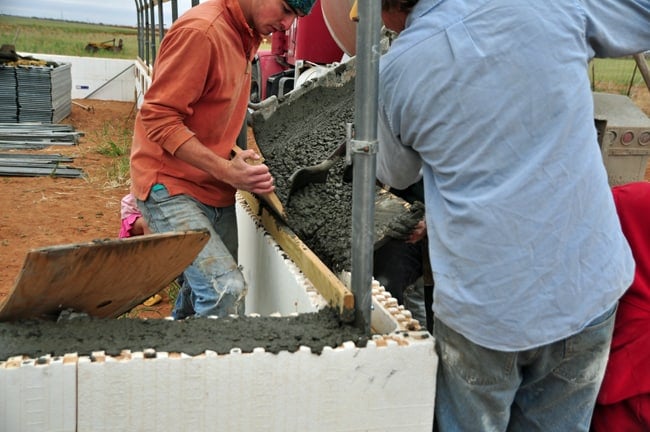 A makeshift assembly line was used with the head of the line directing and funeling the concrete into the ICF and a couple of people behind smoothing the top of the concrete and making sure it was even with the top of the ICF wall. Even the younger children helped pick up the concrete that was overshot.
The next step will be putting the EIFS (exterior insulation finishing system) on the outside - we used EIFS on the filter house/pavilion and really like it. Then all that remains will be putting the fiberglass panels up for the roof. I am excited to not only complete this project but to also have the extended growing season that the greenhouse will provide! To see the progression of the greenhouse: ICF Greenhouse How to Apply EIFS to a Greenhouse Greenhouse EIFS Completed