October 26, 2015 | Vineyard | OS VINE
Grape Harvest is Finished!
It is hard to believe that with as many grapes as we had in the vineyard, they are now completely gone! Yes, we harvested 184.4 tons of grapes this year and grape harvest is over! It is hard to express the feelings that grape harvest brings and especially the rush of emotions once it is over. Here is a quick glimpse into some of the thoughts and feelings:
Relief - since it is all out before the rains and cold weather.
Thankful - no one was run over and killed while harvesting.

Disappointment - because we can't easily pick a ripe, unbelievably tasty cluster of grapes.

Sadness - because the vineyard is just a bunch of rows of dying vines - ok, that is a bit dramatic but they do look sad.

Anticipation - waiting for the wineries to pay.

Elation - some checks are in and we can pay our bills!
Our last big harvest was to Duchman Family Winery in Driftwood Texas. Up to this point, Duchman has been the largest recipient of our Montepulciano and Aglianico, both of which are Italian red varieties and make a full-bodied dry wine. My absolute favorite part of harvest is seeing all the tons of grapes come pouring out of the Pellenc grape harvester as it is being emptied - I never get tired of it! Isn't it a beautiful sight?
We had previously harvest 21.6 tons of Montepulciano grapes for Duchman.
Then came 36 tons of Aglianico grapes for them.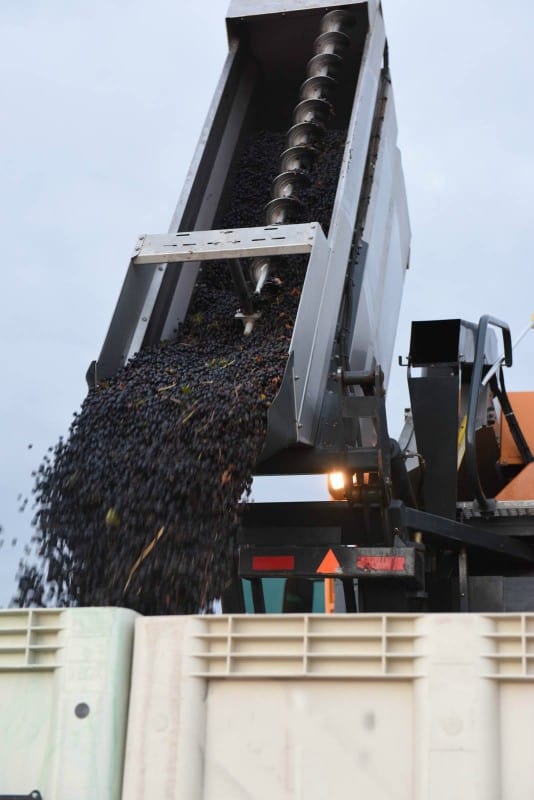 Finally, we sent them a third reefer (a refrigerated 18 wheeler) with 10 tons of grapes - 4.5 tons of Montepulciano and 5.5 tons Aglianico. This year, we have been using our big truck to go to either end of the vineyard carrying the grape bins into which the harvester dumps the grapes from the harvested row. The fellows have gotten very good at "ringing" the bins - most of the time!
We still have our moments when things don't go according to plan! This was like a shower of grapes going everywhere except in the bins!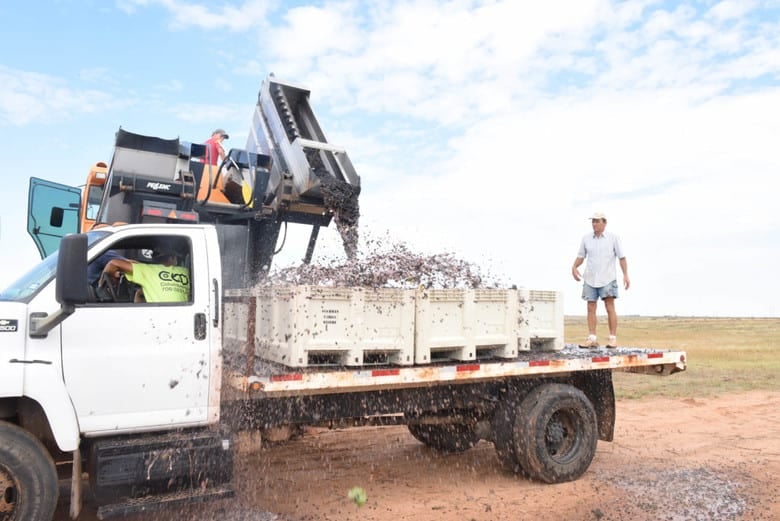 Once the bins are filled, they are taken to the barn and loaded into the waiting reefer. For these larger grape harvests, we rented a tele-handler which is like a fork truck on steroids - it lifts a double stack of loaded grape bins without straining! It has an arm that extends making it easy to put the bins far into the reefer. A pallet jack is then used to move the bins which weigh 1,000 - 1,500 lbs each - a bit too heavy for even my strong farm boys to push around - especially when they are double stacked!
Our final grape harvest of 2015 was one row of Roussanne which yielded 2.5 tons.
This Roussanne has been hanging and ripening for a sweet dessert wine for Calais Winery. Allowing the grapes to raisin raises the brix which is the measurement used to tell the percentage of sugar in the grapes. When these Roussanne grapes where harvested they had reached 32 brix meaning they were 32% sugar - that is sweet!
Now it is time to put the vines to bed. Since we have had so much rain, it is necessary to spray for molds and fungus. After spraying is completed and a bit of tidying up in the vineyard is done, we wait for pruning to begin which will be in February. Time to put our feet up? Not quite - My to-do list is alive and well!