January 31, 2017 | Building | OS VINE
Glass Block Windows - The House is Dried In!
For a chronological listing of our building projects with ICF (or insulated concrete forms), be sure to look through the ICF Building Index. The house is officially dried in! That means that all the windows and doors are in place and no rain can get in. Above, you can see the glass block windows installed in the cupola. But, there is still an open space! The cupola is about 20 ft tall at its peak so, being enclosed with the glass blocks gives lots of light. Below, you can see the clear window installed between the glass block windows - there is one on each side of the cupola. These will be motorized to open and close during the summer, using a remote to let out heat .
Getting a deal on two pallets of glass blocks (thanks, Joe) was an amazing savings but, it did mean cleaning the previously used blocks. We found the easiest way to clean the glass blocks was using razor blades to cut off the old caulk.
As you can see, an assembly line of sorts was set up and work began.
Next came the plastic dividers which are used to separate the glass blocks so they don't hit each other. They also had lots of old caulk on them.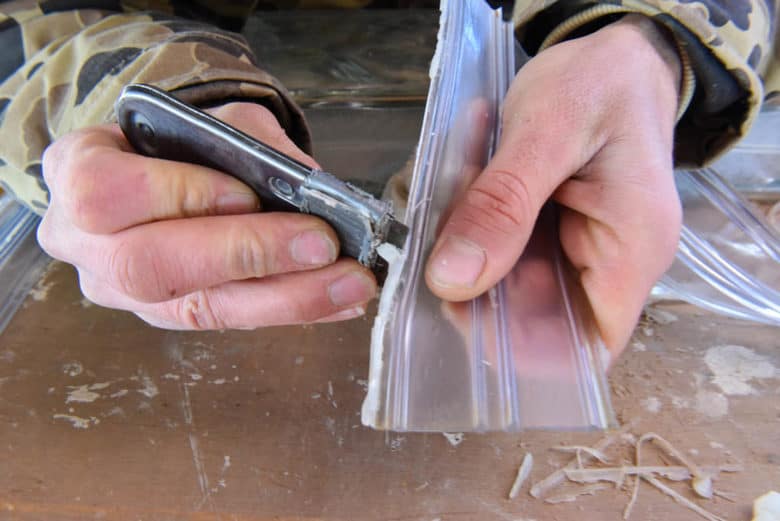 Once put together to be the right size for each windos, the glass blocks are glued together using caulk. A bead of caulk is placed down the length of the glass blocks and then smoothed to the level of the blocks.
Here is a closeup of the cupola windows. Thankfully, my camera has a zoom because I am afraid of heights! I really tried to go up the ladder but just could not bring myself to get over halfway up! The pieces of wood you see sticking out are the shims used to hold the glass blocks in place while the glue dries. Once the windows are dry, the shims are removed.
If you have been following for awhile, you will remember that we had placed insulation board on top of the sub-flooring and then used TPO (Thermo Plastic Olefin) for the roof. Now that the house is dried in, we do not need it anymore! Below you can see the TPO being rolled up showing the pink board and other insulation board used to keep the heat in the basement.
And, finally the TPO is pulled out the front door, folded more neatly, and carried to the barn!
The progress is exciting and we are trying to make the most of the time. Vineyard work will soon be upon us - we start pruning in March! But, until then it is work on the house time!!!! The last photo is one of my favorites - it is the back of the house with the sunset coming through the cupola's glass block windows.