June 7, 2022 | Corgipoos | OS VINE
Flopsy's Christmas Corgipoo Litter
Born on Dec. 23, 2021, Flopsy's Christmas Corgipoo Litter almost made Christmas day! Flopsy is a sweet corgi who is retiring after this litter. Check out our Corgipoos - Corgi Poodle Mix page for more about the breed, links to past litters and pics of the parents.
Flopsy's Christmas Corgipoo Litter - 4 Puppies
With four beautiful tricolored corgipoos, Flopsy helped us celebrate the holiday season.
In her first corgipoo litter, Flopsy had five puppies. Interestingly, in that litter also, all the puppies were tricolored and very similar in their markings.
In this litter, there were two girls and two boys. Each had very similar markings but it was easy to tell the difference between them.
Telling the Difference
I often am asked how I can tell the difference between the puppies. Especially with Flopsy's puppies when they are all tricolored, it takes getting to know them.
Once you take care of them, play with them and bathe them for pictures, you can tell them apart easily. They each have their own personality and way about them.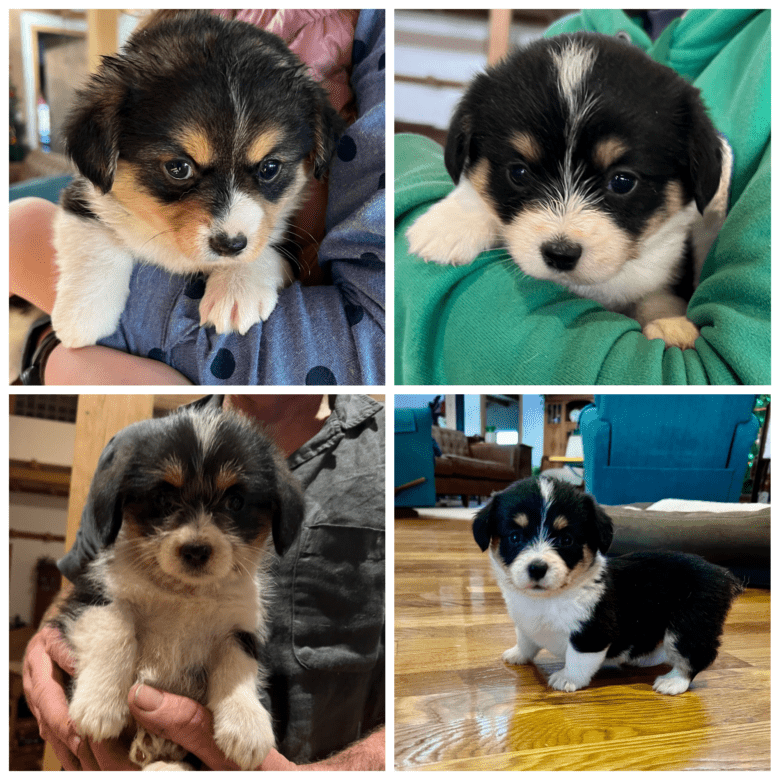 Flopsy's Christmas Corgipoo Litter - Photo Session
As with Schnuki's Christmas litter, I never had a formal photo session. Expecting and preparing for family members along with puppy care seemed to take my time!
But, no matter how busy life is, I always try to send weekly pictures to their new families so they can see their growth.
Puppy Selection Process
If you are interested in a puppy, please leave a comment and I will contact you.
Once a corgipoo litter is born, a few days after birth, I begin sending pictures to the first person on my list. Once they select a puppy, I remove those pictures and send the remaining ones to the next on my list.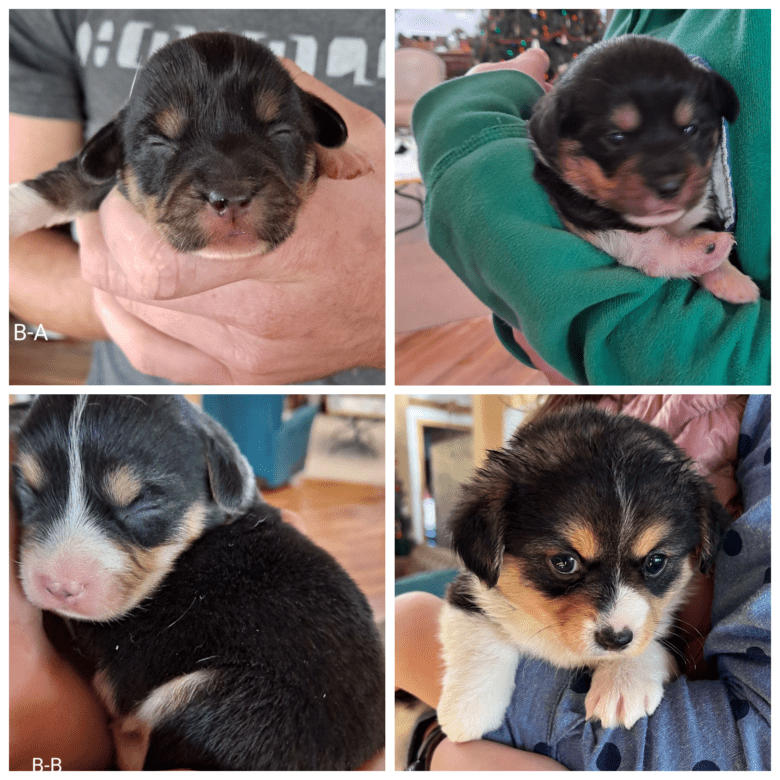 When Do Corgipoos Go Home?
After their 6 week vet check which includes a physical exam, the first set of puppy shots and a dewormer, they are ready for their new homes.
Our corgi moms are very consistent in having the puppies weaned by 6 weeks. I think it is because the puppies begin getting their teeth and, as you can imagine, it becomes uncomfortable and even painful as the puppies bite the mother.
Do You Recommend Crate Training?
Yes! But, the crate should be considered a "safe" place and not used as punishment. Puppies love having a protected place to go and sleep.
We actually begin crate training to help make the transition smoother for you! At bedtime, the puppies are put to bed in a crate (which is inside our home). In the morning we take them out to do their business.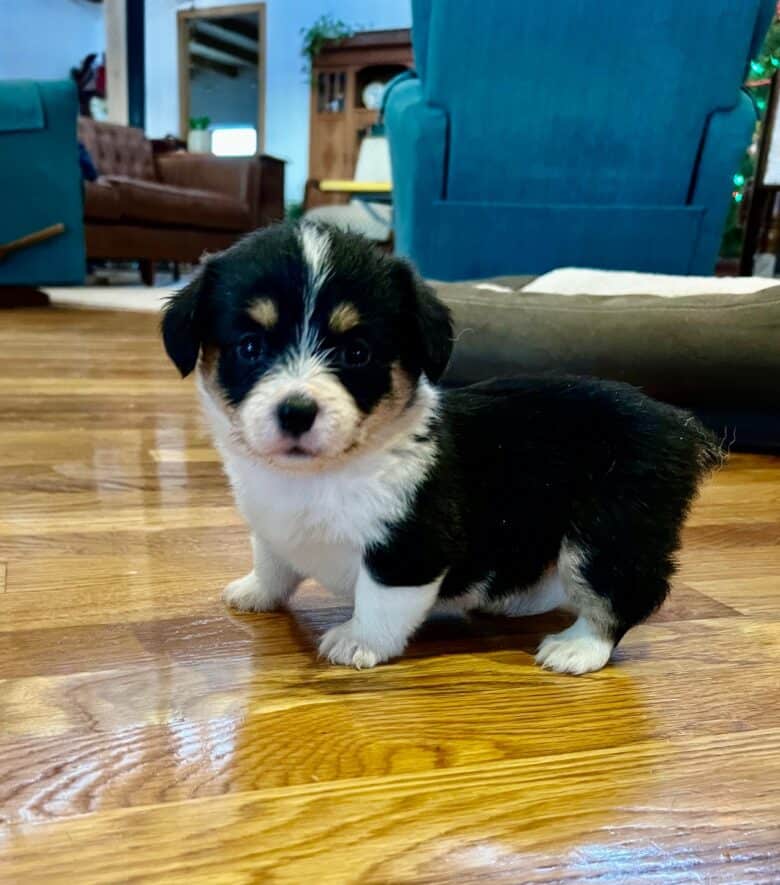 Flopsy's Christmas Corgipoo Litter - Her Last Litter
We have decided to retire Flopsy and she is moving to South Carolina to live a life of ease. She is such a sweet girl and after much discussion, we feel that she would thrive in a home where she is queen.
We will miss her but look forward to seeing her in her new life!
Join the Corgipoos of Oswald Vineyard Facebook Group
If you are on Facebook and would like to see our puppies grown and get answers to your questions, feel free to join the group - Corgipoos of Oswald Vineyard.