May 10, 2013 | Vineyard | OS VINE
YEAH - The House Sold Party!
Yeah - the house sold now it's time for a party!
A Little History
If you have been around for awhile, you know that we moved from Alabama a little over 5 years ago. We left a very comfortable lifestyle (thanks to corporate America) to relocate in west Texas and start a vineyard.
Unfortunately, our nearly 5,000 sq ft home about 40 minutes from Mobile was put on the market just in time for the housing crash.
And, there it sat!
For a little over 5 years that beautiful house - our dream house, the one we were to grow old in - sat unsold!
Now It has Sold
But, in a quick flurry, the right person came along and it sold!!!
Now, we are Texans for good - hopefully!
So, this past weekend, we had a "Yeah - the House Sold Party"!
All the children were here, of course, including our second oldest son and his wife from El Paso, a friend from east TX, John's brother, Joe from Tennessee, neighbors, grape growing friends and church friends. We ended up with quite a crowd!
Being a bit compulsive, when everything was over, I had to check the guest list of those who had RSVP'ed and we had 92 people! The party was held in the overhang of our new barn and thankfully the weather was perfect. There was just a slight breeze as opposed to our very common 20+ mph winds!
The Menu
The menu included a shrimp boil, coleslaw, rolls, sweet tea, water, lemonade, beer and coffee. Oh, I forgot to mention the 2 full-sized sheet cakes - and no, they were not sweetened with honey nor were they healthy, but, they sure were good! This definitely fell into the 80/20 rule meal!
Something for Everyone
Our goal was to have something for everyone! There was a lot of fun, fellowship and even a bouncy house for the children.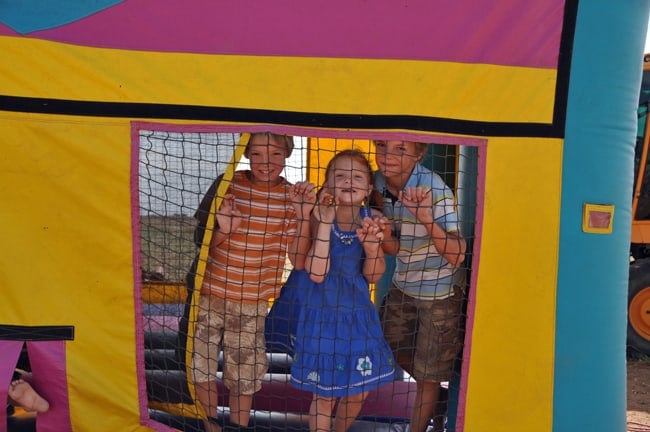 Needless to say, no one was in a hurry to leave. I think after the freezes we have had over the past few weeks and the grape crop being pretty well devastated, everyone was ready for some fun and relaxation! Going well after dark, we finally cleaned up and had a fire that took the chill off the cool night air.
Returning back to the house with the friends left, we continued talking and having fun until after midnight! Then, when everyone was gone, we watched "Doctor Who" which is free with Amazon Prime. (This is an example of my using "we" loosely - I fell asleep in the recliner and woke just in time for the end - about 2:30 am!