November 2, 2015 | Building | OS VINE
The Greenhouse is Finished!
For a chronological listing of our building projects with ICF (or insulated concrete forms), be sure to look through the ICF Building Index. It seems like years since we started the greenhouse. Oh, wait a minute - it has! We started it on July 23, 2012 - my how time flies! A year later, May 2013, we started the EIFS (exterior insulation finishing system) on the greenhouse and finished the EIFS the same month. So, for a couple of years now, we have had a beautiful greenhouse - without the roof. But, now, the greenhouse is finished and I want to brag a little! John and the boys put polycarbonate on the top and sides of the greenhouse. Below you can see the view as you step inside the door. There are shelves down the center which will be great for holding trays of seedlings.
The greenhouse is about 48 ft long and there are beds on either side. Since I have concrete pads on each end, the beds are about 40 ft long.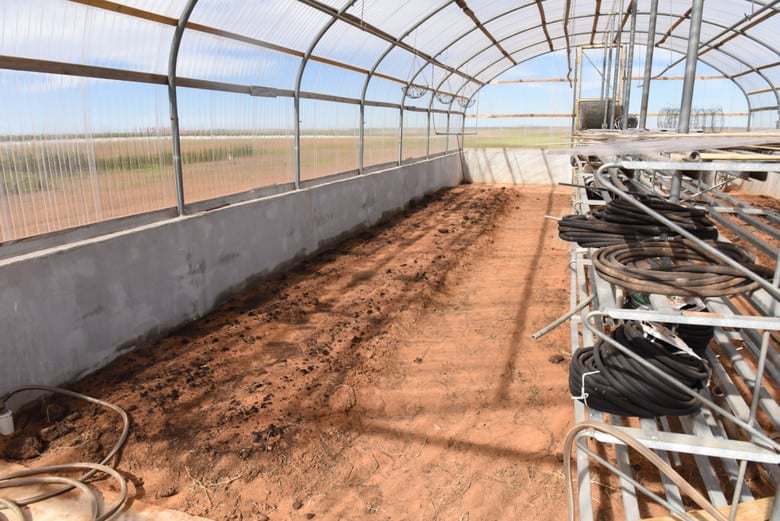 Lettuce, kale, carrots, beets, cabbage, broccoli, radishes and parsnips are among the vegetables planted.
To me, the windows above the doors are the coolest feature of the greenhouse. They are for venting the hot air. From the inside looking up, you can easily see the chain which keeps the window from flopping over.
Outside , well, I just love the way it pivots and looks so professional!
Used for a winter garden, the sun will warm the ground of the greenhouse during the day and keep the plants from freezing during the night. And, I will now have plenty of room to start my summer garden seedlings - no more egg cartons with the seedlings sitting on every windowsill and table! Who else gets excited about making work for themselves? At this point, we are not planning to heat or cool the greenhouse - it will be used to extend the growing season. After reading "Four Season Harvest", written by Elliot Coleman, I have been inspired to grow fresh vegetables year round. After all, if he can do it in Maine without a heated greenhouse, I should be able to do it in west Texas - right? So far, the radishes are doing the best!