July 9, 2012 | Animals | OS VINE
Sprinkles -The New Face
I have returned from nearly 3 weeks away, visiting my mother and sister in Macon, Georgia. It was a wonderful visit but there is no place like home! I returned to a new face around here - Sprinkles.
Sprinkles is a shih-poo, half shih tzu and half poodle. She is very cuddly, adorable in fact. She rarely barks and when she does, it is usually at Lolli, the cat. They are great friends and even eat out of the same dish at the same time! They have already provided a lot of comic relief with their antics - chasing each others tails, hiding and pouncing on each other, rolling around on the floor together....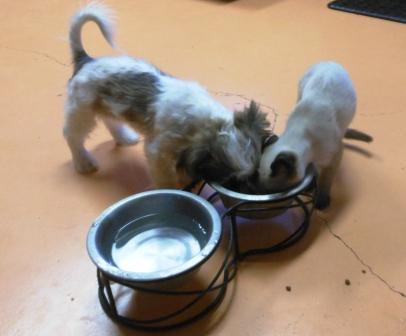 After a visit from relatives a few months ago who had a shih-poo, we (maybe I should say "I was" ) were very interested in finding one. In fact, she is an early birthday present for me! Our oldest daughter and her family were vacationing about 30 minutes from where Sprinkles was born - it seemed perfect - they brought her home on their return trip. This was all arranged before my trip to Georgia so she arrived 4 days after I left! Housebreaking Sprinkles seems to be going better now. She is still having accidents but while I was gone everyone was threatening to rename her "Puddles"! Being half poodle, she will not shed, but her hair does grow and she must be groomed. When I returned home, her hair was rather long. In fact, when she tried to scratch with her hind foot, her nails would get caught in the hair! Being the do-it-yourself types, we clipped her nails and took the hair clippers to her. The first session went very well. It will definitely take practice, but I am pleased with the first attempt. Sprinkles also seems pleased - she is more playful - I think she was just hot!
Sprinkles also seems much more playful - I think she was hot.