June 9, 2021 | Building | OS VINE
RV Camping in Texas - RV Winery
Oswald Vineyard is excited to open our farm to self-contained RV's. RV camping in Texas, as well as throughout America, has become extremely popular. We have wide open spaces and electrical hookups are coming soon!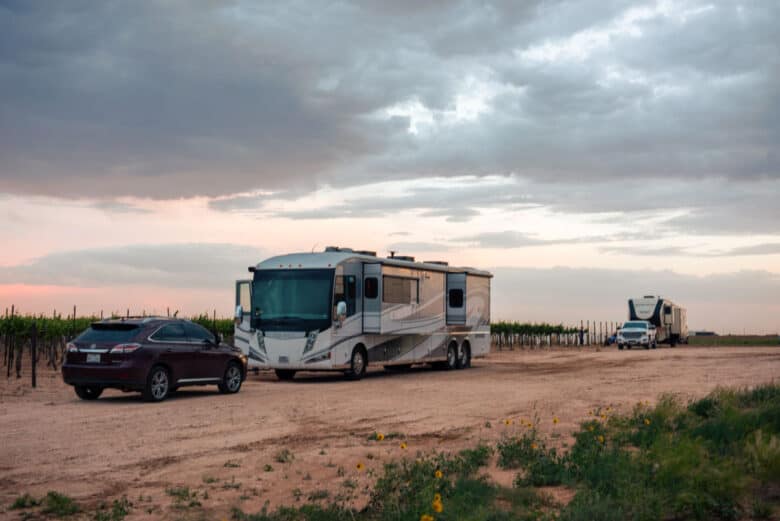 Harvest Hosts - RV America
We were first introduced to the concept of RV'ers staying at wineries, vineyards and other types of farms through Harvest Hosts. We were approached in September of 2019 with the opportunity of becoming a host for Harvest Host and have enjoyed meeting so many nice people.
With the membership in Harvest Host, you are asked to spend at least $20 with your host. So, most of our visitors schedule a tasting and help themselves to their favorites from our Tasting Menu.
RV Camping at Oswald Vineyard
Wondering how you and your family can participate in RV camping in Texas at Oswald Vineyard to experience great wines and beautiful sunsets? Its really simple...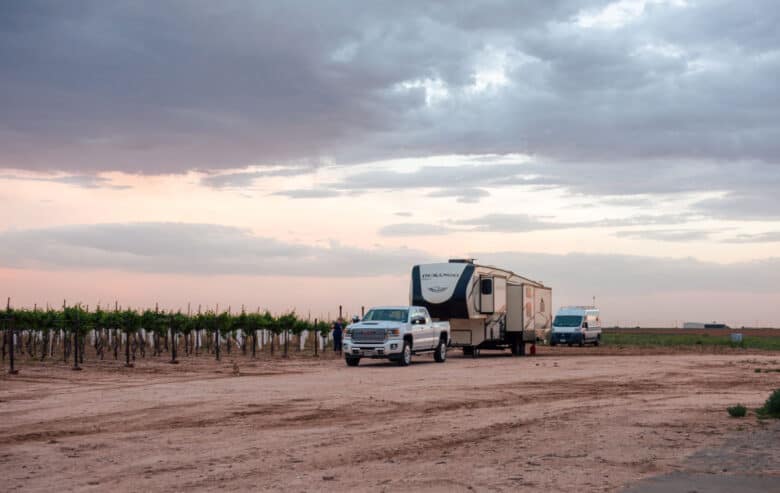 Requirements to Visit With Your RV
You are welcome to stay for 24 hours and longer visits may be arranged when requested in advance. As with Harvest Hosts members, we ask that you spend at least $20 at Oswald Vineyard. See Tasting Menu below.
Please call (806) 686-4738 to schedule your visit.
When you arrive, you will stop by the house, which is the first red roofed building, and check in.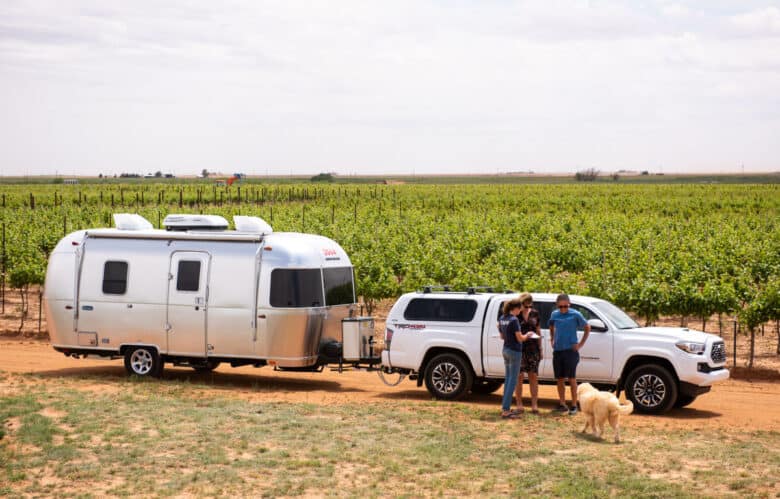 When checking in, you will be directed where to park your RV and we schedule your tasting which is held at the barn.
During the wine tasting, you will enjoy wines from grapes which we grow in the vineyard, a complimentary cheese plate and your choice of stemmed or stemless wine glass which is yours to keep.
Wine tastings are offered for your party alone or with the group of campers staying the night.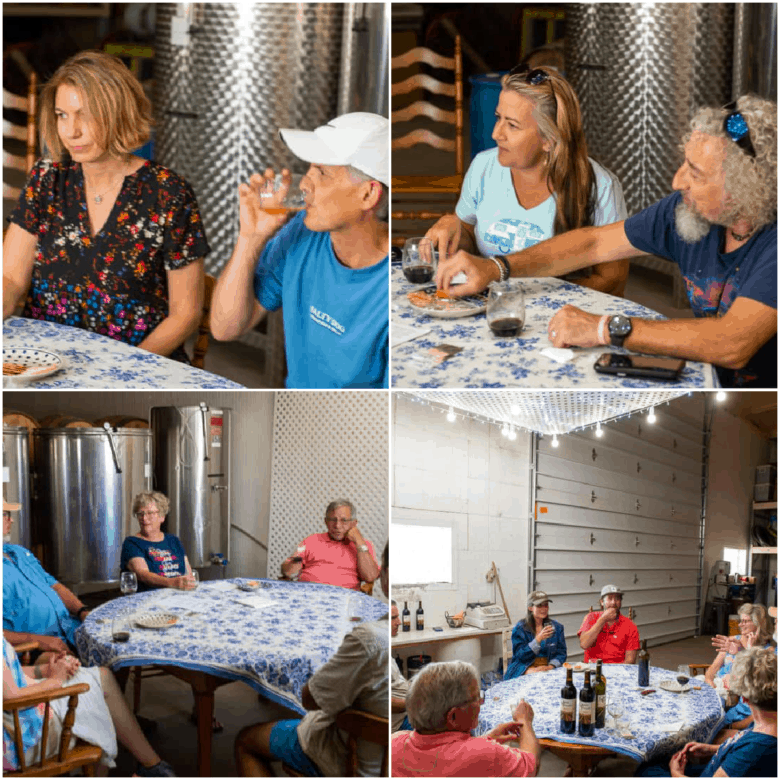 RV Camping in Texas
While RV Camping in Texas is wide open, we are set apart as a destination because of our unique family owned and operated vineyard and winery.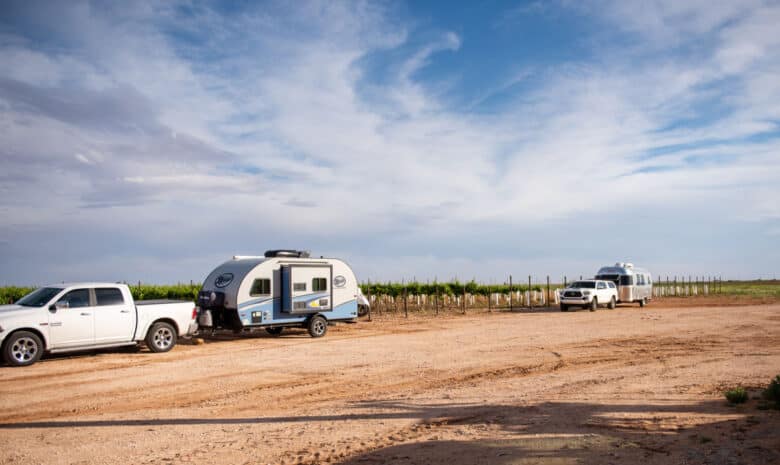 You can enjoy delicious wine with the wide open scenery of west Texas and you will probably even hear a coyote or two during the night! But, don't worry, our faithful Great Pyrenees is working tirelessly to protect you!
Tasting Room Menu
Our Tasting Room Menu can be seen below. Please note that for Homemade Whole Wheat Honey Bread, we ask that you please order in advance so we can be sure to bake enough!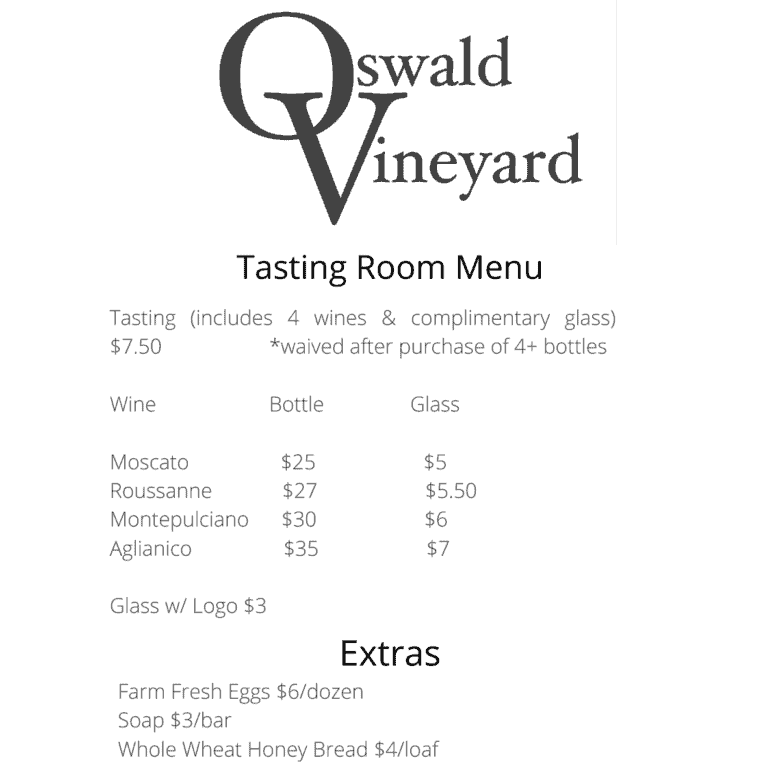 Call To Reserve Your Place
Please call Oswald Vineyard at (806) 686-4738 to check for availability and reserve your spot today!