April 21, 2010 | Building | OS VINE
Pouring Concrete for the Slab!
Here are some pictures of the basement slab being poured. For a chronological listing of our building projects with ICF (or insulated concrete forms), be sure to look through the ICF Building Index. We ended up having 5 cement trucks come - which was very exciting for our little boys, the big ones too actually! OK, we were all excited about it!
Because the trucks were coming from 50 miles away, the slab was worked in sections. As the concrete was poured it was spread out over the plastic.
After spreading the concrete, it was leveled.
Once leveled, the men used a wire mesh tamper to cause the stones in the concrete mix to sink. This helps give a smoother surface to the finished slab.
After the surface had become dry enough, a whirlybird was used to finish the concrete to a smooth surface.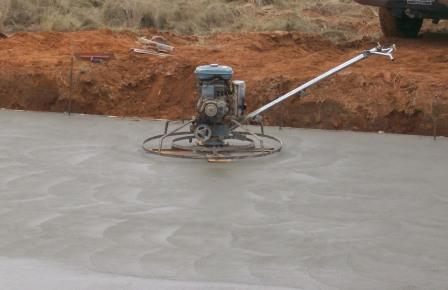 Needless to say, with a family our size, we had plenty of supervisors!
Here is the slab almost completed and we are waiting on one more truck!
Once sufficiently dried and the surface finished with the whirlybird, the slab was covered with plastic. This prevents the concrete from drying to quickly and allows it to cure slowly giving a stronger slab.
The walls will be next!