December 20, 2013 | Animals | OS VINE
Heavy Hearts
Have you ever noticed how situations, circumstances and lives can be changed in a matter of minutes? Life is fleeting and this was brought home in a very real way to our family this week through our little shihpoo, Sprinkles. We have heavy hearts around here.
Sprinkles
For our family, Tuesday began like any other day. We woke up and began preparing breakfast. While breakfast is being prepared, our 5 yr old feeds the outside dogs, Snowball and Cotton, both Great Pyrenees. This particular morning, Sprinkles was also outside and decided to help Snowball eat her food. This was never a problem when she shared the dish with our cat Lolli. As you can see, they would both plunge their heads into the bowl at the same time!
Unfortunately, Snowball saw things differently. These two dogs, Snowball and Sprinkles, vastly different in size, had played together daily as best buddies.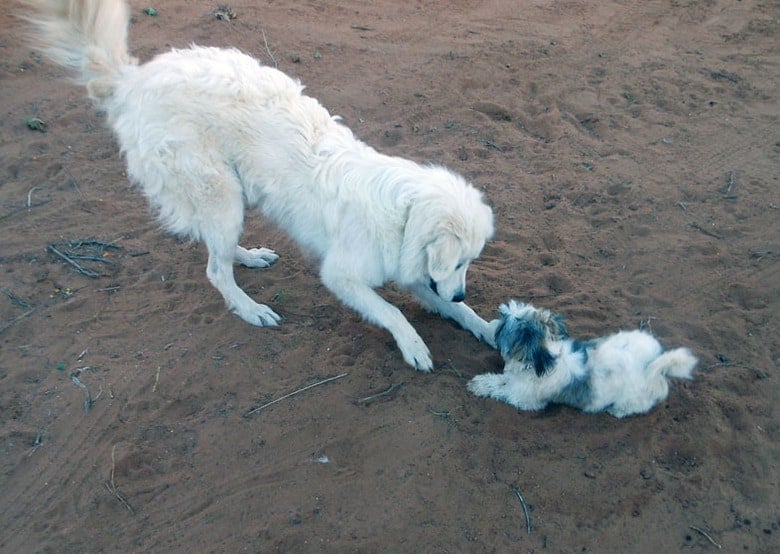 But, this time, food was involved - Snowball's food and she went ballistic. Snowball jumped Sprinkles and unfortunately, there is not a happy ending. I will spare you the details but, Sprinkles had to be put to sleep. We had heavy hearts that day.
Sprinkles - Family Pet
One of my favorite pictures of Sprinkles is one you might recognize from Butchering a Cow that I posted a few weeks ago. I show it again because it captures Sprinkles quiet loyalty and patience. She was on the sidelines for the whole process of butchering, not only to be fed any choice morsels, but because she loved being with us as a family, no matter what we were doing.
It is amazing how much a part of the family a pet becomes. I know, I just said a few weeks ago in Butchering a Cow that farm life is a practical life and that we were teaching our children that not all animals are pets - some are meant for food. But, the ones that are pets definitely touch your lives and become part of the family.
As humans, it is our nature to think we are invincible. Sprinkles was just a dog. She was probably the best family dog we have had and everyone loved her. But just in the matter of minutes, her life and ours were changed forever. At times like this, the realization of our mortality hits hard! Are you living each day as if it were your last? After all, it could be and we never know when it will!
Looking Forward
Looking forward helps heal the hurt of loss. While Sprinkles was the perfect house dog, I think a larger breed might hold its own a bit easier with the great Pyrenees. So, the younger children and I have been looking at puppy pictures and thinking about a new dog. Do you have any recommendations?