October 26, 2012 | Animals | OS VINE
Cotton - Our New Coyote Defense
It has been quite awhile since I gave you an update on the coyotes which have claimed the lives of a beloved dog, cat and numerous chickens. In "Coyote Update", I relayed the story of our 19 year old son's shooting a coyote who was circling our chicken pen in broad daylight. This happened the day after our corgi, Bob, had disappeared. We also strategically placed poisoned meat around, since there are no neighbor's dogs in the area. For a time, the coyote's howls were quiet around here. Unfortunately, it did not stay quiet long enough! Thanks to a reader's comment and subsequent emails, I was in contact with an Anatolian Shepherd breeder and was looking forward to a litter being ready around the holidays. Then, friends in the area who were moving back to Nashville, TN asked if we would be interested in their Great Pyrenees, Cotton. After very little discussion it was unanimous - Cotton had a new home! Being almost one year old, Cotton has needed little training except to learn that she did not need to pluck any chicken feathers. She did not kill any, but one in particular went about somewhat indecent for a few days! Each day for about a week, we would walk her on a leash around the boundaries of the house, pasture and vineyard. And, that is all it took - she is now a wonderful watchdog! She is up in a flash when a coyote howls. You might wonder how Sprinkles (the shihpoo) and Lolli (the cat) have reacted. The two, are still best buddies and continue to eat and drink out of the same dish at the same time!
Sprinkles, being the extrovert social butterfly that she is, welcomed Cotton into the family at once. Lolli, however, took a bit longer to come to terms with the fact that there was indeed an addition to the family. Sprinkles and Cotton play together with Sprinkles running circles around Cotton.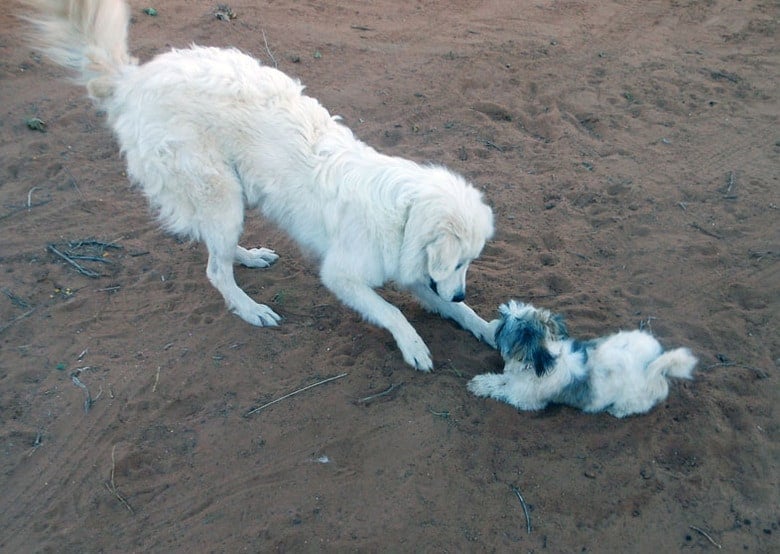 Sprinkles runs and ducks in and out of the vines at the vineyard -poor Cotton cannot seem to manage darting with the speed and agility she needs to keep up with Sprinkles. When they are all tuckered out, they lay down to rest and just look at each other!
They have given us many laughs!