March 8, 2018 | Corgipoos | OS VINE
Corgipoo - Adorable Puppies
I love puppies and corgipoo puppies are just the cutest little things you have seen! These puppies were born January 22 and are already six weeks old. For more information be sure to check out our Corgipoos - Corgi Poodle Mix page! Here is the six that were born and of course, the girls are on top!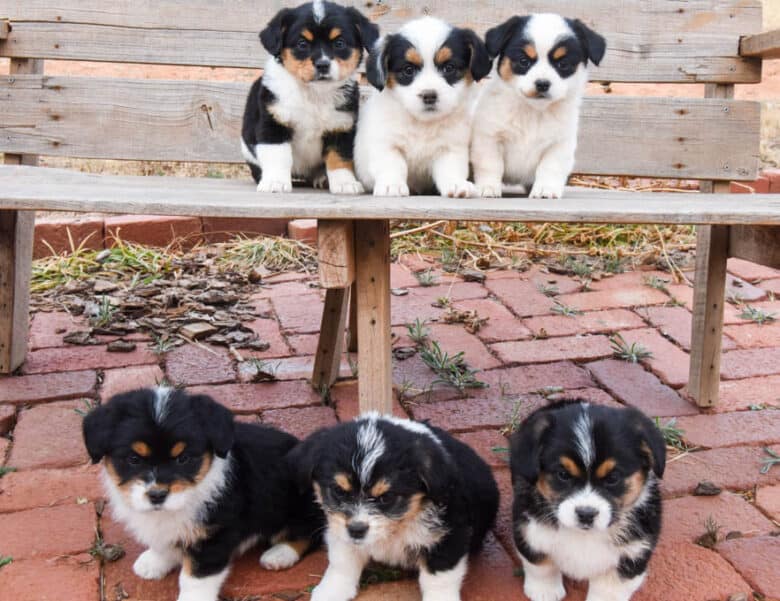 I have to say, they are always so cute!
See Pictures From Other Litters:
Corgipoo Puppies - They Will Melt Your Heart Corgipoo Puppies Fall Litter Boy, how time flies! They are now ready to go to their new homes and I have to say, we will miss them but, it is time for their new families to get to know them. These puppies are definitely full of personality! Bear with me while I show off their cuteness - here are the three little boys that are so photogenic!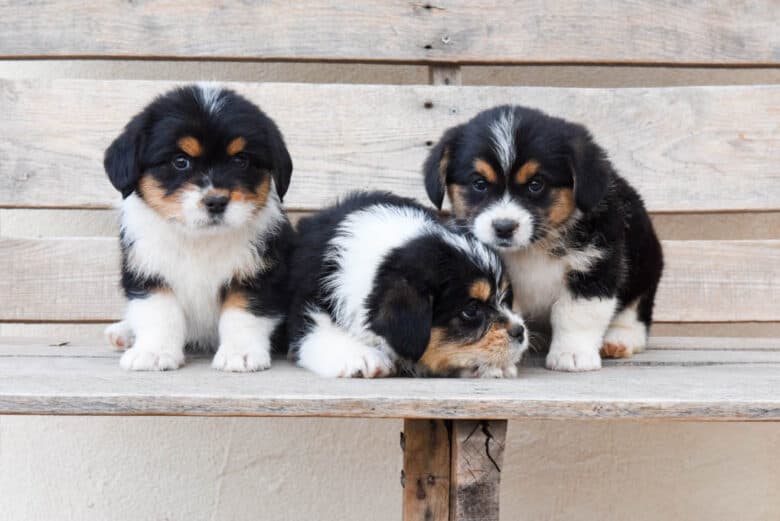 I love taking photos of puppies - it is definitely a challenge. Just when you think you have them all looking at the camera, some get distracted and look away.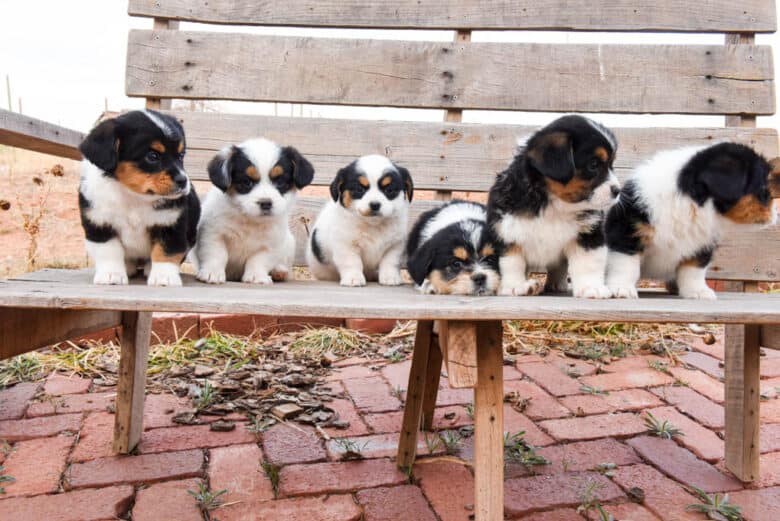 Trying again and just about to click, the other half get distracted and look the other way!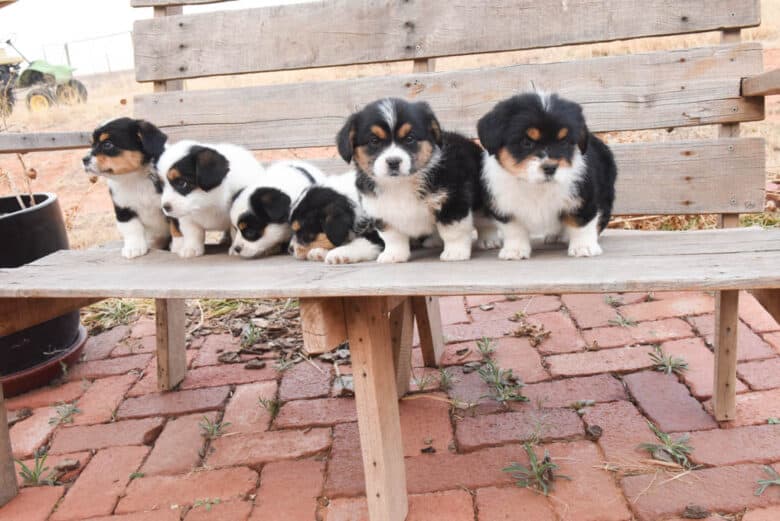 Bangles, our female corgi is the mother and she takes such good care of her puppies!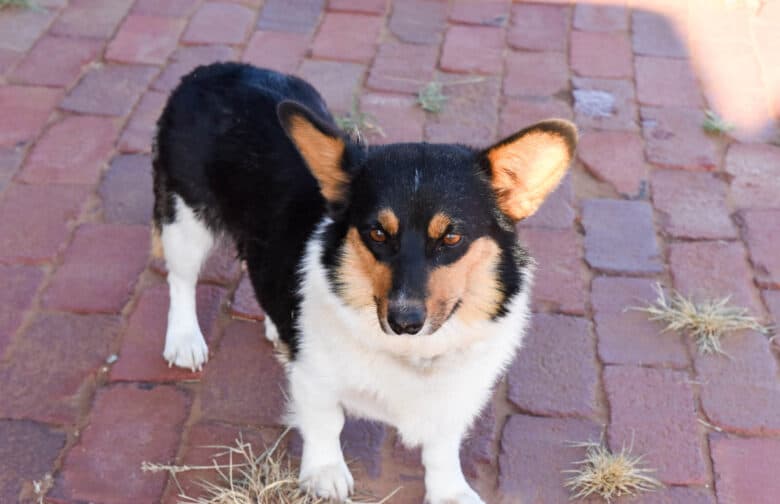 Bernie is the father and he and Bangles are our family pets. They go with us when we are working in the vineyard, as well as, just about everywhere else we go.
But, back to the corgipoo puppies...It is funny but, so far, we have had 2 from each litter that are white like Bernie and the other 4 are tri-colored like Bangles. They all look like corgis with their faces, short legs, big ears and stocky build. If I were trying to pick one, it would be very difficult because they are all so cute. I have not taken a lot of pictures of this litter but here are a few when they were 4 weeks old. This is one of the tri-colored boys. Aren't those eyes adorable?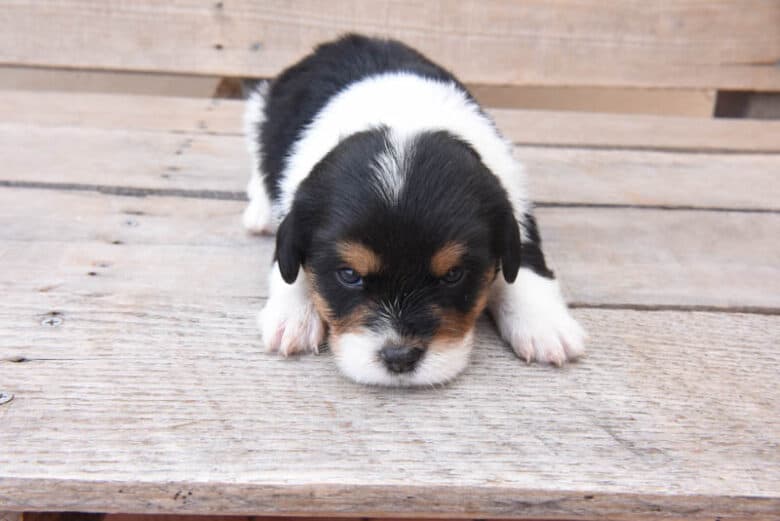 Here is one of the white females. She still looks very much like a corgi puppy but is predominately white. In this litter, the two white corgipoo puppies are female. One has a few black spots on her back and the other has a single black spot at the base of her tail. Talk about adorable! I love the dark eyes trimmed with tan.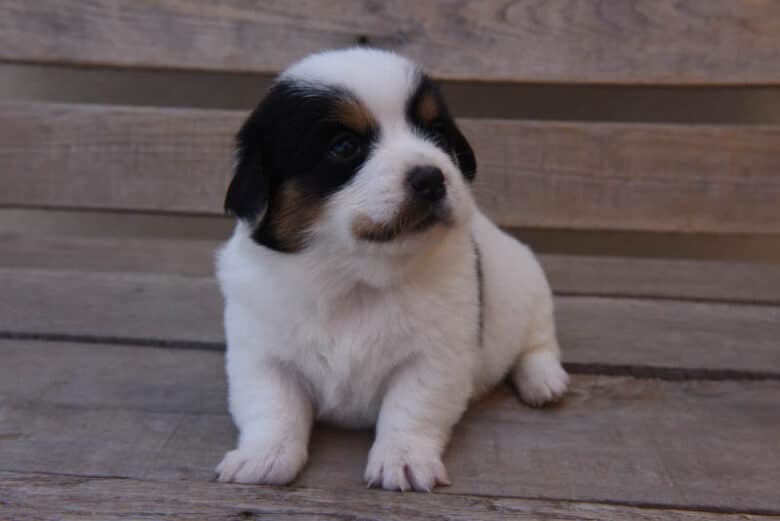 Now that they are a bit older, their personalities have really developed. As with past litters, they are all very outgoing. I think it helps having so many children - the puppies get a lot of attention and playtime. I can truthfully say that our corgipoo puppies are well socialized! You might wonder what exactly is a corgipoo. A corgipoo is a mix between a corgi and a poodle or poodle mix. Our corgipoo puppies are a mix of Pembroke Welsh Corgi and Shihpoo. Here is what the AKC has to say about the Pembroke Welsh Corgi:
Low-set, strong and sturdily built, the Pembroke Welsh Corgi gives an impression of substance in a small space. He is one of the most agreeable small house dogs, as well as an avid competitor in many dog sports, including conformation, herding and obedience. The Pembroke Corgi is a separate breed from the Cardigan Corgi, possessing a shorter body and straighter, lighter boned legs. His ears are pointed at the tip and stand erect, and he has a short tail. The coat can be red, sable, fawn, black and tan with or without white markings. Personality: Smart and alert, affectionate but not pushy, bold but kindly. Energy Level: Very Active; A strong and athletic little dog, the Pembroke loves physical activity and is happiest when he has a job to do.
Here is what the AKC has to say about Poodles:
The Poodle, though often equated to the beauty with no brains, is exceptionally smart, active and excels in obedience training. The breed comes in three size varieties, which may contribute to why Poodle is one of the most popular breeds. Poodles can be a variety of solid colors, including white, black, apricot and gray.
What is the benefit of a Corgipoo?
There should be no shedding and you get the best of both breeds. Here is what Pet Guide says about Corgipoos:
The Corgipoo is a mix between a Corgi and a Poodle/Poodle mix – and they are sure to melt your heart. The corgi is the Queen's favorite dog, and poodles are a staple in many North American families. They are known pranksters, and by adding the poodle into the mix, we get something that might just even be more adorable (and hypoallergenic). Corgipoos are one of the tricksters in the dog world, and their antics are generally adorable. These stubby-legged imps seem to enjoy their antics and take into account that it's tough to get mad at them due to the cuteness.
According to the AKC, the poodle is the second smartest breed of dogs. Combining the intelligence and hypoallergenic qualities of the poodle mix with the intelligence, loving nature and personality of the corgi, you have a win-win puppy that is going to find its way into your heart!
Future Litters
Like I said, I love having puppies and thankfully my family does too! Since posting the last photos of our puppies, I have had a lot of requests for a puppy. If you are interested in a corgipoo of your own, leave a comment and I will get you more information about them.