December 29, 2016 | Building | OS VINE
Applying EIFS on ICF Blocks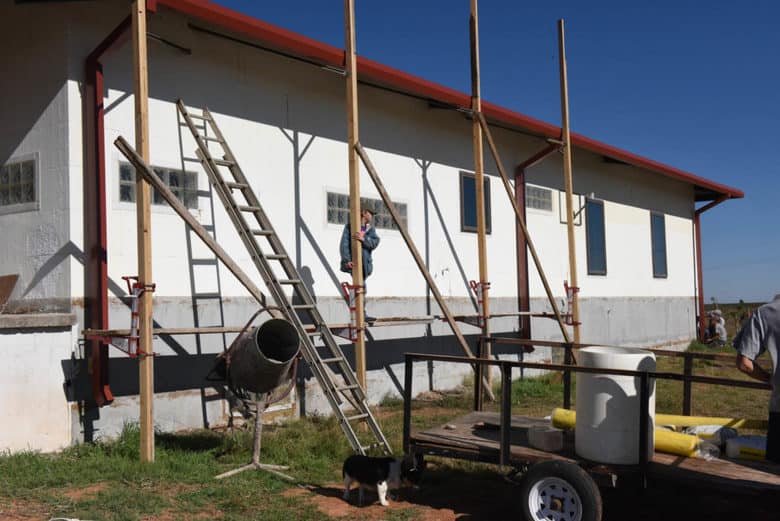 For a chronological listing of our building projects with ICF (or insulated concrete forms), be sure to look through the ICF Building Index. The time has finally come that we can put the EIFS (exterior insulation finishing system) on the house. No more will it be multiple shades of grey, white and yellow. When we did the basement expansion, we did the base coat of EIFS on it but wanted to wait and do the final coat all together for a more uniform appearance.
Applying EIFS on ICF Blocks
We started on the south side of the house and as you can see in the photo above, pump jacks were set up to reach the top of the house. Only half of the side could be done at a time and then the pump jacks had to be moved. When applying EIFS on ICF blocks the first step is a cement coat. Below you can see that first a cement coat is applied to the ICF (Insulated Concrete Forms) blocks.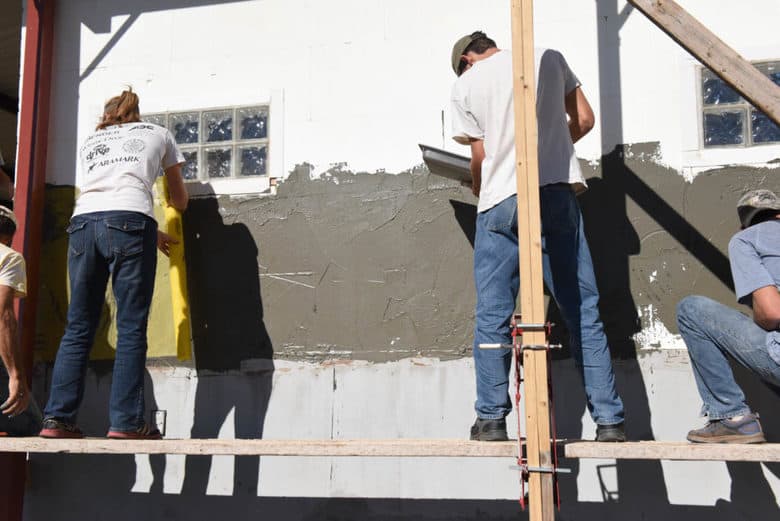 The second step to applying EIFS on ICF blocks is the fiberglass mesh. Below is a close up of the yellow mesh which is made of fiberglass. It is rolled over the cement coat and pressed into it. The mesh gives strength to the final coat.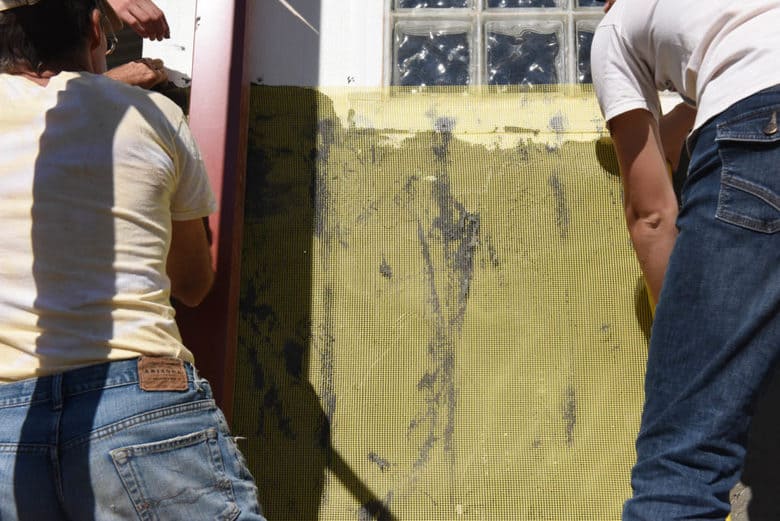 The third step to applying EIFS on ICF blocks is to press and smooth. A trowel is used to press the fiberglass mesh into the cement coating. Once completely covered with cement, the fiberglass and cement are worked with the trowel so there are no high spots and it is smooth. A smooth finish is important because that will affect the final topcoat application.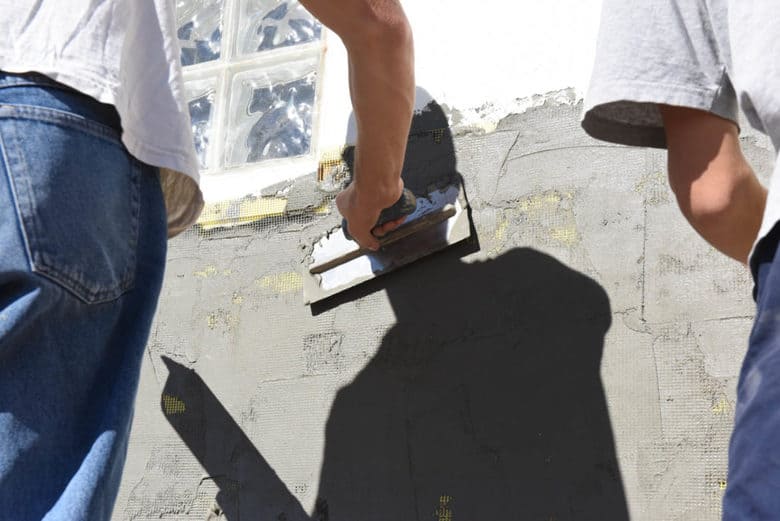 The side was done with three passes - pumping up the pump jacks after each level was completed. You can see that it was definitely a family affair from the mixing of the topcoat in the cement mixer to the smoothing.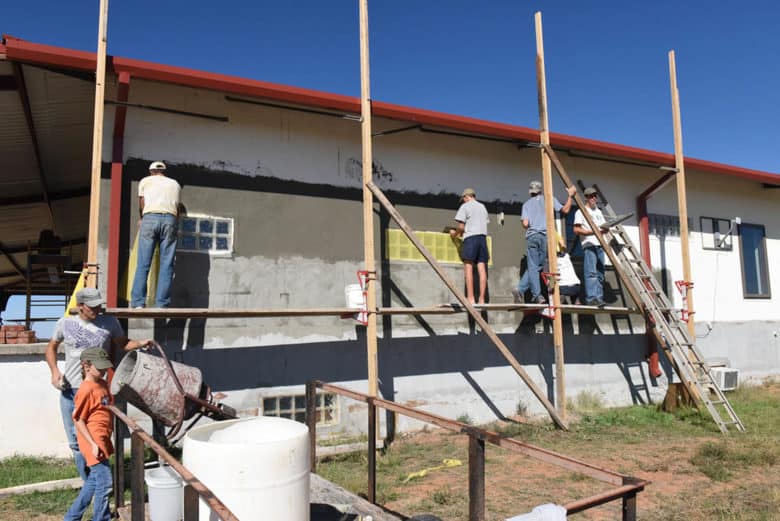 The last half of the first side was done a bit quicker - practice makes perfect!
The back of the house was even higher! You can see the view from the patio below. I admit, I am afraid of heights so, there was no way I was getting up there! Not only is it high but, it is also not the most stable thing in the world!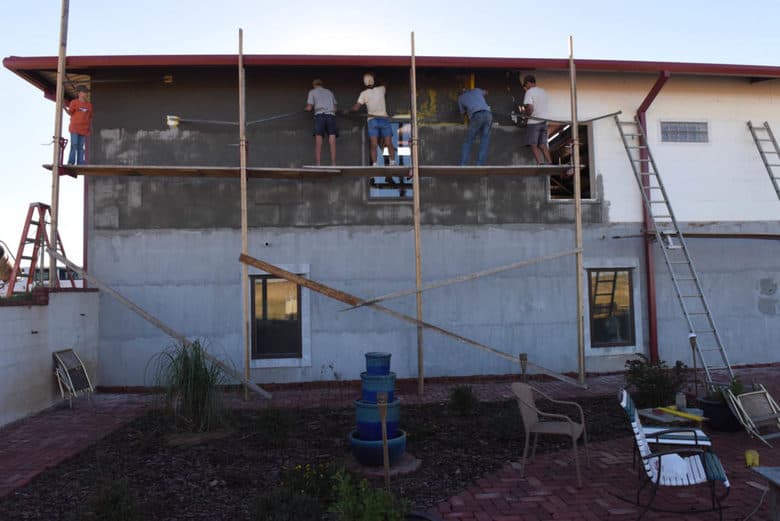 Now, if you will indulge me, a couple of pictures showing the front with the EIFS basecoat completed.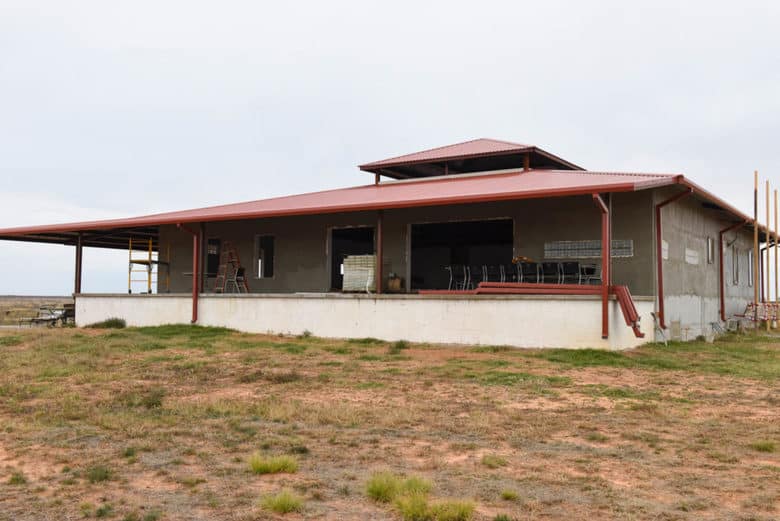 And one last photo showing the front/side where we started.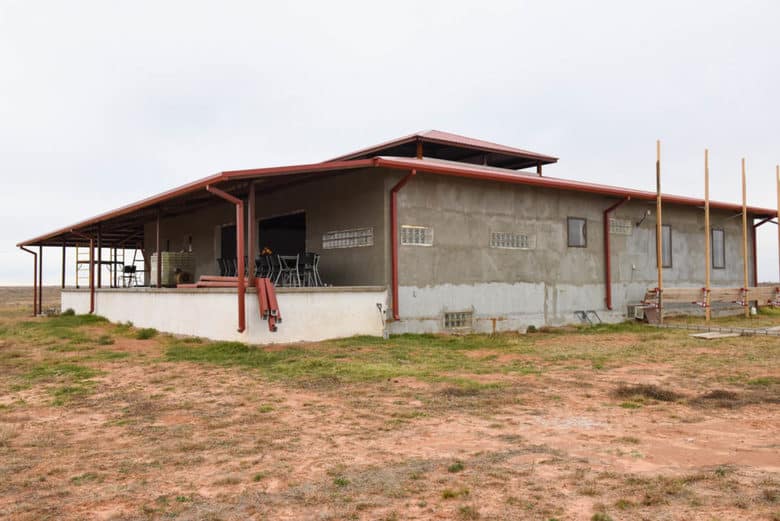 The next step is the top coat. The various shades of grey will be covered with my favorite color - beeee-uuuu-tiful yellow - just like the barn. Needless to say, I can't wait!